Yealink EHS36
Brand: Yealink
Product Code: EHS36
Availability: In Stock
FREE SHIPPING!
Contact us to check stock availability before placing order

The new advanced Yealink Headset Adapter EHS36 provides the technical interface between Yealink SIP-T48G/T46G/T42G/T41P/T38G/T28P/T26P telephones and a compatible wireless headset. It is approved for use with wireless models made by major manufactures, including Jabra, Plantronics, and Sennheiser. It has been designed specifically to ensure maximum effectiveness in reception, areas, call-centers, and general telephone use. The EHS36 is ideal for corporate, financial, health, government, educational, industrial, and SME/ SoHo market sectors.
Easy to use
The unit is easy to install via a simple link from the EHS36 to the EXT phone port. Its "plug-and-play" mode gives you direct control of your Yealink phone, with the ability to answer and hang-up calls remotely.
Features
Compatible with Jabra, Plantronics, Sennheiser
Control phone through wireless headset
Plus-and-play, Easy to use
Specifications
Main Features
Supports Yealink SIP-T48G/T46G/T42G/T41P/T38G/T29G/T28P/T27P/T26P
Compatible with Jabra, Plantronics, Sennheiser wireless headsets
Plug-and-play, easy to use
Answer incoming call through remote wireless headset
Terminate calls using remote wireless headset key
Incoming calls are signaled in the headset earpiece
Physical Features
Built-in an RJ12(6P6C) input port connected to IP Phone
1 x RJ45 (8P8C) output port for GN/ Jabra headset
1 x 3.5mm output port for Plantronics headset
Accessories: RJ12, RJ45, 3.5mm, RJ11 cord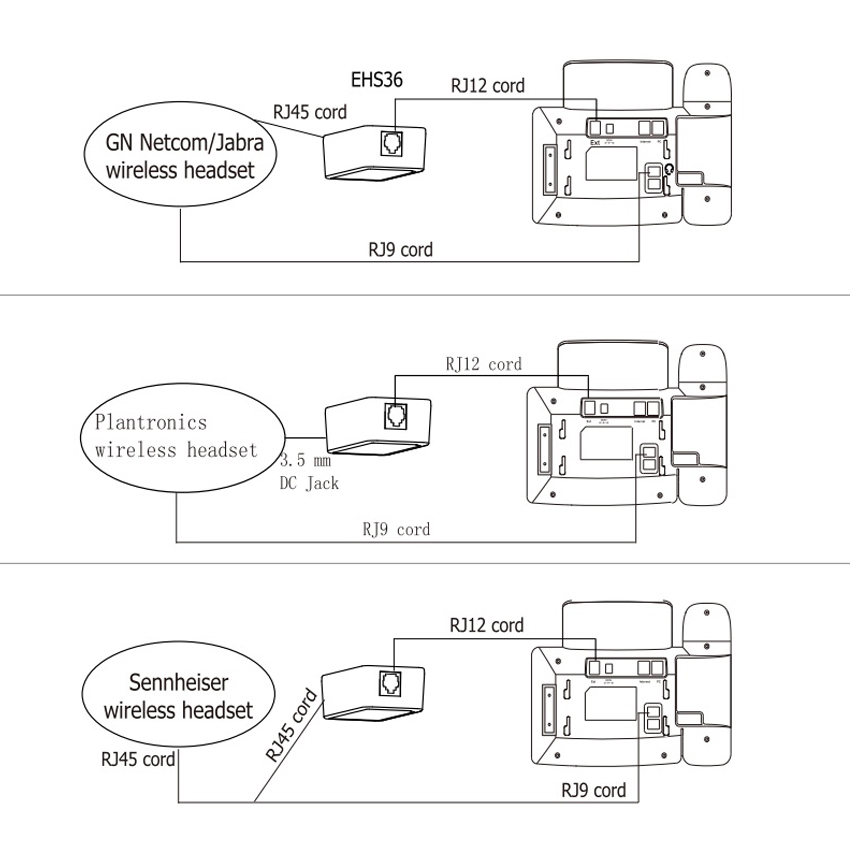 Warranty Period: 1 Year
** Warranty does not cover wear and tear, damages arisen from misuse or use not in accordance with product instructions.
We reserve the right to change the feature, function, price, and agreement without prior notice.

Find great products and buy online with E-Market Malaysia. For large quantity, please contact us HERE
Malaysia Toll Free: 1800 87 7061
Kuala Lumpur: +603 2780 3880 / +603 7980 1388
Penang: +604 642 0621
Johor Bahru: +607 361 8927
Email: sales@bizcloud.asia